"Me and My Chauffeur"
 Memphis Minnie was a little lady with enormous talent.  Women were rare on the rough and tumble blues circuit.  But she was able to match any man on the microphone, and slay any guy on a guitar.
One of the best and boldest guitar slingers in Chicago was Big Bill Broonzy.  He tells of a 1949 cutting contest between him and Minnie.
The joint was packed.The judges were Sleepy John Estes, Richard Jones and Tampa Red.  Big Bill took the stage first.  He played two songs and the crowd cheered.
Then came Minnie.
The room was hushed.  When she started on "Me n' my chauffeur" the house came down.  She barely made it through the second song.  The judges lifted her on their shoulders and gave her a fifth of whiskey.
There hasn't been anyone quite like Memphis Minnie.  In the words of poet Langston Hughes, she's got "rhythm like heartbeats mixed with iron and steel."
Memphis Minnie—Me and My Chauffeur: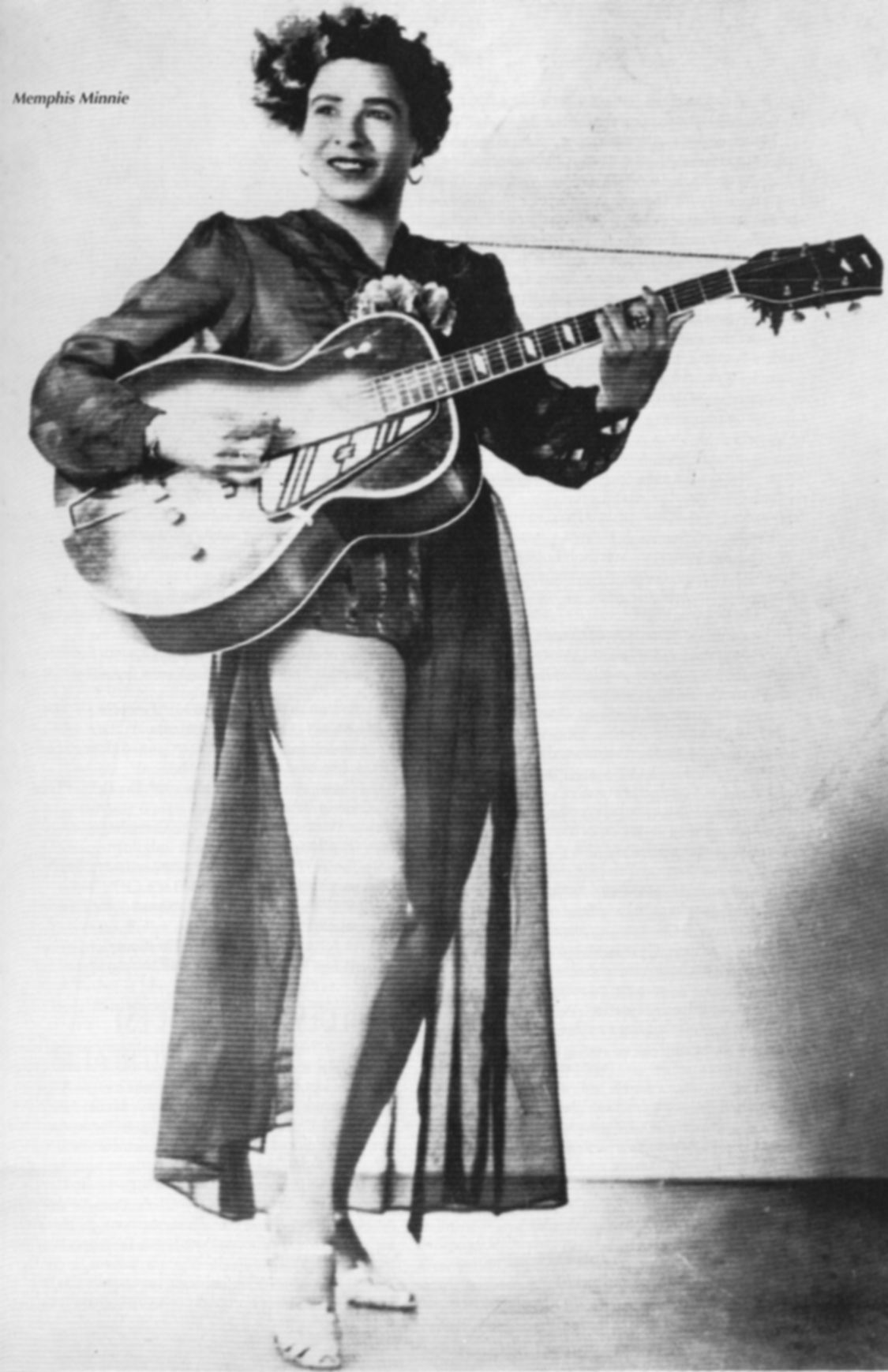 [soundcloud url="http://api.soundcloud.com/tracks/94671599%3Fsecret_token%3Ds-HL7sv" params="color=ff6600&auto_play=false&show_artwork=true" width=" 100%" height="166" iframe="true" /]
Memphis Minnie is a singer,  songwriter and bad-ass guitarist. Born Lizzie Douglas on June 3, 1897 in Algiers, Louisiana, she got her first guitar at eight years old, and by thirteen she'd run away to live on Beale Street in Memphis. She played with the Ringling Brothers Circus for a time before falling head over heels onto the blues circuit. While traveling and performing with her second husband Joe McCoy, she was discovered by Columbia Records, and sent to New York. It was there she changed her name to Memphis Minnie and recorded some of her most popular songs, including her favorite, 1930's "Bumble Bee." She'd go on to have a prolific career throughout the Second World War, retiring in the 1950's due to poor health. Memphis Minnie died on August 6, 1973, in her beloved Memphis, TN.  
Memphis Minnie was a tough lady who was highly respected for holding her own in a world of whiskey and wild men. She's known for chewing tobacco, wielding a pocket knife, and killing on the guitar—all while wearing a chiffon ball gown. Her six-string skills surpassed many of her male contemporaries. As such, she stands as one of the best, and most influential, blues guitarists of all time.
---
Our friends at Fog City Blues in San Francisco are wishing Memphis Minnie a Happy Birthday:
Listen to birthday boy Jimmy Rogers remember recording with fellow June 3 birthday girl Memphis Minnie.
For more, visit the Fog City Blues FaceBook Page as well as the Fog City Blues Blog.
---
---